Fire Extinguisher Testing In Your Workplace
Posted by FCF on 29 April 2019
A fire extinguisher serves as the forefront in extinguishing flames. As a matter of fact they are considered the first line of defense when a fire breaks out. Most fire incidents that have successfully put out fire were done using fire extinguishers. It is clear enough how this type of equipment safeguards buildings the best way possible. Workplace fire extinguisher testing should always be a priority.
That is why Workplace Fire Extinguisher Testing is recommended to ensure they function well enough in such incidents. As a building safety officer, it is a must to ensure that your fire extinguisher testing is compliant with national workplace safety standards.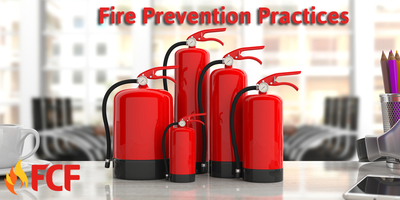 Legal Requirements
According to AS 1851, it is a legal requirement to have all fire extinguishers in the workplace tested. Testing should be done by fire safety professionals at a six-monthly interval. When planning for inspections, these documents should be readily available:
Customer, industry and organisational requirements for fire extinguisher maintenance and testing
Territory building codes and work procedures
Occupational Health and Safety (OHS) policies and procedures
Inspection
Before the inspection, it is necessary to double-check your requirements and prior duties. Firstly, take a short review of your Workplace Fire Extinguisher Testing requirements by checking if they are up-to-date and if they comply with industry legislation based on Australian Standards, specifically in your territory.
That way, you can anticipate a number of changes you need to make. It is also important to arrange a good time for inspection, which may be considered as an official schedule for the half-yearly intervals.
Location And Display Of Sign
As a priority, fire extinguishers should be visible and accessible
Location of extinguishers should not be in areas where hazard or obstruction could prevent the person from using it
Ideally, fire extinguishers must be installed in normal paths of travel particularly near exits
The area where extinguishers are installed should be free from obstruction
Installing fire extinguishers should be coupled with the appropriate support fitting or bracket
Apart from the support fitting, installation should follow a certain height of at least 100mm between the base of the unit and the floor and a maximum of 1200mm between the top of the unit and the floor.
There should be signage indicating the unit's locations and labels
The format for the signage should have the symbol, border, and letters in white on top of a red background as per the AS 2700
Getting a good grasp of these facts and legal requirements can help increase your chances of staying on track with the inspections. Furthermore, ensuring the compliance of fire extinguisher inspections definitely gives you more time to focus on your business. If you need more help in fire safety in the workplace, call a trusted fire safety professional.