As the electrical industry continues to grow with new devices and smart systems FCF are upskilling at each advancement. With FCF it is standard practice to conduct monthly study groups to ensure that the latest industry information & technology is shared across our business. Our electricians and experience is diversified, working on domestic homes, retail, commercial, industrial, farming and mining. An FCF Electrician is who you need to get the job done.
Searching for a 24/7 service? Electrical install? Wiring? Our electricians do it all.
Choosing an electrician from a long list can be difficult, why FCF?
Professional and correct WHOS uniforms
No surprise extras in your agreed quote
On time
We clean up when we leave
Free electrical safety check - valued at $110 when we complete the work
Place yourself at ease with an FCF electrician
We want to leave your home and business like it's our own
Completing the job to a high-quality standard is our goal. Once we have completed the task, we ensure there is no mess or rubbish is left behind, as we don't do it in our own home and wouldn't do it to our clients either.
Power points
Lights
Fans
Stoves
Ovens
Hot water elements
Smoke alarms
Smoke alarm disconnect breakers
Safety switches
Surge protectors
RCDS
Thermal Imagining
New installations, renovations, maintenance, changeovers.
Book a free consultation with one of our electricians now - fill out our enquiry form or give us a call on 1300 323 753 today.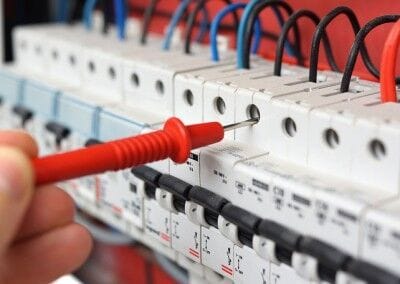 Switchboard Thermal Imaging
Property Managers and Facility Managers understand the need for thermal imaging.
Thermal imaging detects the issue before it becomes apparent to the naked eye or worst case a switchboard fire. Having a skilled electrician inspect a mains board or sub-board enables them to interrogate the issues that are hidden, for example:
Loose terminals
Undersized cables
Faulty fuses or circuit breakers
Incorrectly fitted components
Fixing the issue before it becomes a problem is the best way to maintain electrical equipment.
How to read a Thermal Imaging Report
A switchboard's temperature has to be matched against the ambient room's temperature in order to be able to identify if and where there's a potential hazard. If the switchboard's under too much stress or it is hot, then the internal elements may ignite. The darker the colour means the cooler the element or area is. The lighter the colour means the area is warmer and generally under more stress. A report is generated when the images are downloaded into the software and then shared with the electrician's notes to issues and requirements to correct before the damage is done.
How often does a switchboard need a Thermal Imaging test?
Thermal imaging for all your building's switchboards should be carried out every 12 months or more frequently if environmental conditions are influential. Many insurance companies are now making thermal imaging a condition of policy renewal.
In Australia, all commercial businesses are required to maintain electrical safety. One important component of Electrical Safety is the installation of RCD Safety Switches. Once the RCD's are installed, they are also required to be tested periodically to ensure they are working correctly. There are RCD Testing Requirements in place help the owner maintain safety and compliance.
Residual current devices are used to prevent the probability of electric shock and fire. In commercial settings, they are vital to reducing the number of work-related injuries and fatalities. The regulations require all company owners to install at least two RCDs on their main switchboard. Business owners who wish to learn more about RCD Testing Requirements should contact FCF today. When it comes to RCD Testing, We can help your business stay 100% compliant, no matter where you are in Australia.
One of the services FCF Fire & Electrical offer is Electrical Test & Tagging.
I spent a few hours this morning doing a three (3) monthly Test & Tag for a client who takes engineering power tools including extension leads onto mine sites & construction sites. These tools and leads need to test out at 100%, both for the safety of the users and also to satisfy the onsite WHS staff who conduct random audits on contract tradies' power tools.
The visual check of the cords, plugs and connections is just as important as plugging the power tool into the tester to check earth & insulation.
The visual check means a close inspection of the cord, plug and connections and will identify any nicks in the cord, damaged pins and loose connections where the cord enters the tool. Any tools/extension leads that fail are tagged out to be sent off for repair.
If your business takes power tools onto controlled work sites contact FCF Fire & Electrical to ensure your tools are good to go.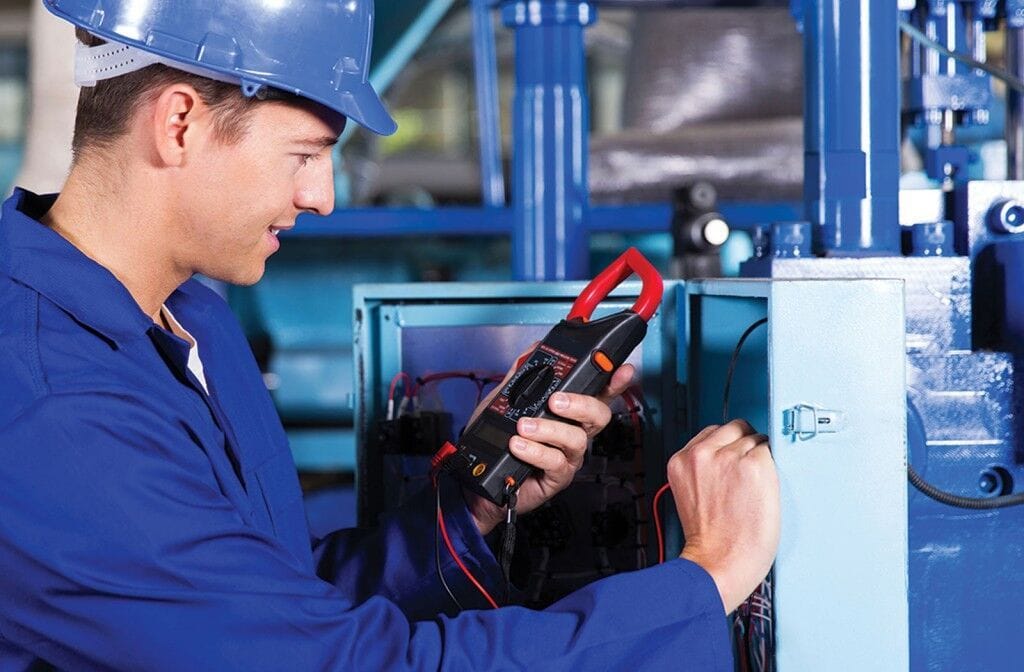 Exit and Emergency Lighting
Located in many buildings the traditional EXIT sign has been replaced with the running man style. AS2293 is the Australian Standard that electricians and fire technicians follow in testing the different types of lighting systems available. Some of these systems are:
Standalone - these luminaries are controlled and powered by batteries stored within the fitting.
Central Power - these luminaries are powered from a battery bank stored locally on the premises Not a common system due to battery storage and costs.
Monitored these luminaries are powered by batteries stored within the fitting, however, controlled and monitored via a management portal. Various systems are available and with WIFI becoming commonplace the technology is always advancing.

Emergency Exit Signs are installed to guide personnel and fire brigade out of a building. Australian Standards determine where Emergency Lights should be placed within a building. We know where and how many Emergency Exit Lights need to be installed in your building. These lights also need to be serviced and maintained periodically.

FCF became concerned with Emergency and Exit Lighting failure rates in 2012 as manufacturers competed with offshore built lights and the lower cost to market entry. For a client the lower prices seem reasonable, however, the life span of the lights significantly decreased. Which in turn meant buying more lights.

Exclusive 5 Year Warranty - After doing a lot of industry research, FCF partnered with a suitable supplier that didn't alter their products just to simply suit a more competitive market. With the customer's interests in mind from both a manufacturer and installer viewpoint, the 5 Year Exclusive Warranty was developed to ensure FCF clients got more value for money from their Emergency and Exit Lighting systems. This means that only FCF Clients can have confidence that approved Emergency Exit Lights supplied by FCF are longer lasting and backing this claim by offering a 5 Year Warranty instead of the usual industry standard of 2 years.

We are a service company engaged to deliver the best products for our clients.
Complete our consultation/enquiry form for one of our experts to give you a call to give you a quote and calculate the difference with you.
Complete our consultation/enquiry form for one of our experts to give you a call to give you a quote and calculate the difference with you.