Leading Causes Of Fires In Healthcare Facilities And How To Prevent Them
Posted on 25 April 2019

How often do you assess your healthcare facility for signs of danger? It may sometimes seem evident but risks of fire can just be lurking in the operating room or your own clinic. Quite many of the fire accidents in medical centres are caused primarily by failure to read obscure signs of risks.
Looking at the Australian government data, the period between 1998 and 2005 recording fire incidents have found that more than half of the fatalities affect the mentally ill, even until today. The same study concluded that the most vulnerable to fire are old people, particularly over 85 years old and those with limited mobility. They are all likely situated in healthcare facilities, which means preventative plans including maintenance and a fire risk assessment should be performed in these centres.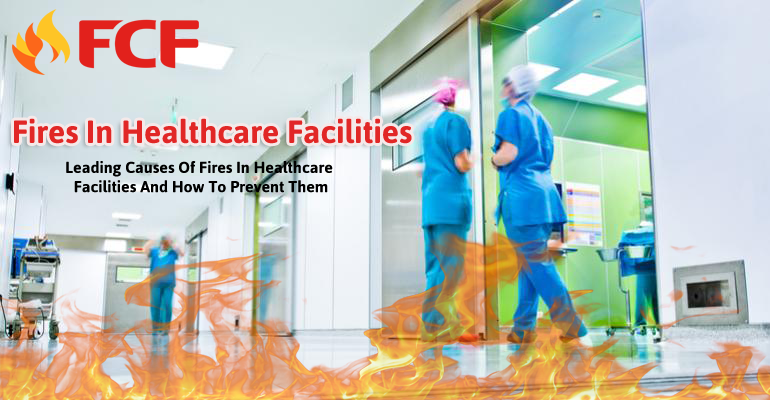 The responsibility of building owners significantly emphasizes on finding solutions, considering that the healthcare industry covers a broad range of establishments including:
Clinics
Hospitals
Nursing homes
Mental health facilities
Rehabilitation centres
All these facilities operate in accordance with standard safety laws and given a number of fire accidents in the State, it is best that we go through each cause of a fire and its corresponding preventative action against repetition of fault.
Cooking Equipment
The hospital kitchen has a wide list of flammable equipment that could cost life and an entire healthcare centre. Fire incidents involving cooking equipment are primarily caused by unattended cooking.
Prevention:
Basic practices are sometimes forgotten, so the first step of prevention mainly focuses on constant staff management, especially delegating roles and responsibilities. Cooks should stay in the kitchen when grilling, frying and broiling. If anything else has to be attended at the same time, turn off the stove. A maintenance check on the gas stove and other kitchen appliances are highly recommended.
Intentional Fires
A fire ignited intentionally, mostly considered arson, points to different questions like why it was done in the first place. People who might have wrong intentions are not quite easy to identify. That is why security measures need to be heightened for the safety of everyone.
Prevention:
While this issue requires a more flexible plan, it is significant to establish good evacuation procedures for uncontrollable circumstances and high-security practices at the entry points of the healthcare facility. Guards on duty must be equipped with the right tools and knowledge to easily identify flammable devices brought to the facility and discard them at once. As a high priority, assign security guards to patrol the premises for inspections.
Smoking Materials
Smoking materials such as cigarettes, matches, pipes, and lighters are ideally prohibited inside healthcare centres, but some fail to follow suit. Unfortunately, even if a hospital or clinic implements these strict rules, occupants, even patients tend to disobey them and irresponsibly discard smoking materials in fire-prone areas.
Prevention:
Smoking rooms should be situated in an isolated area away from the facility and significantly from occupants who do not smoke.
Ashtrays are to be provided with immediate fire suppression supply like water or sand
Instruct janitors to check for excess ashes that might have dropped on flammable furniture and materials
Implement a smoke-free policy, prohibiting the use of any kind of smoking material within the premises
Heating Equipment
Heating equipment in healthcare centres such as boilers are usually used for sterilising medical apparatus and heating water. Though effective sterilisers, boilers may overheat and emit gas fumes, which are signs of danger, and worse, fire.
Prevention:
The risks of boilers in medical centres can get high, especially when they show signs of danger. If any of these tell-tale signs manifest in your boilers, replace them immediately:
1. Scent of spent gas or fumes
2. Scorching, sooting or black spillage marks
3. Pilot light goes out or a yellow flame
4. Feeling of nausea while boilers are running
Fire alarm installations are advisable for these stations to immediately alert all building occupants in the event of a fire. Also, see to it that all your heating equipment are checked and the fire and explosion risks are reviewed regularly.
Electrical Distribution And Lighting Equipment
The likeliness of fire from electrical faults is higher than heating equipment due to overworked sockets and cables. With the endless list of electrical equipment in the hospital, the healthcare facility qualifies as a fire-prone area and should not be taken lightly when operating electrical tools.
An electrical inspection is a vital step in protecting your premises because it detects hidden electric faults ahead of the possible damage it can cause. To avoid electrical accidents leading to fire, a test and tag is recommended by FCF. Meanwhile, usage of electrical points should be minimal especially when using energy-intensive medical machinery. Follow this for healthcare center in Australia.
The common causes of fire in clinics are not evident, suggesting a facility-wide preventative plan. Call us for assistance in testing and maintaining your electric-related equipment, as well as sourcing out the ideal fire safety systems like fire safety signage and evacuation plans.