The Difference Between Evacuation Plan and Evacuation Diagram Explained
Posted on 27 March 2020
Having been in the fire industry from when I was young black haired to now nearly grey and whites starting to show. One thing that doesn't really change is the public's understanding of the terminology used in the fire safety industry. The one we have to clarify consistently over a phone call is Fire Safety Plan and Evacuation Diagram. Normally these are switched around in people's minds.
A fire plan is a picture on the wall of how to escape a building, which isn't right.
The correct terminology is Evacuation Diagram is the fire picture on the wall that explains how to escape a building, normally with an alternative route out of the building to an AA (Assembly Area)
Here is an example of a fire diagram just so that we can visually see the difference.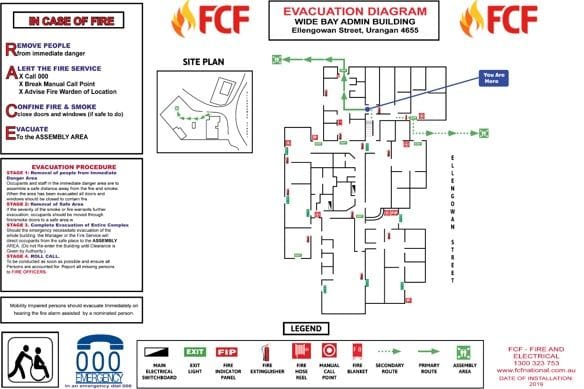 A fire plan is the paper version of who is responsible to perform which tasks in an emergency situation. These plans can be downloaded for free in various states. Check out FCF Resources page to help select the correct fire authority for your state and their website to download a plan.
https://www.fcfnational.com.au/resources.html

Just click the link for your state.
FCF Fire & Electrical have been creating plans with their in house Fire Safety Advisors for over 10 years. As technology advanced, FCF Fire & Electrical found an alternative way to deliver Fire Evacuation Diagrams at a budget price. Using offshore in house designers FCF can now create the Evacuation Diagrams for as little as $25.00. Having a Fire Safety Advisor review each plan to AS 3745 as it comes in and goes out allows for our highly trained staff to maximise workflows to output low-cost evacuation diagrams.
The difference between FCF and other providers that offer $25 drawings is that FCF has no catches and if you're unable to design your own, we come to you. FCF has Fire Technicians all over the country and would like the opportunity to assist you with your fire safety requirements.
Want 3D Evacuation Diagrams now? contact us directly at FCF to have your Evacuation Diagram done in an easier to understand style.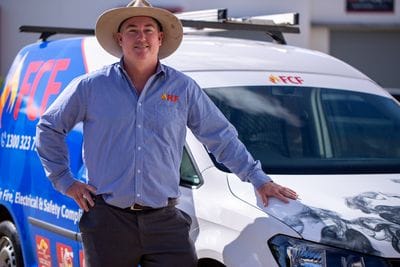 Jacob Foster
Contractor- Fire Certifier- Diploma in Franchising - CEO of FCF
Jacob Foster has over 15 years' experience as a Fire Professional and even longer as an electrician. Starting FCF in 2008 at the beginning of the GFC Jacob has seen tough times for clients and focused on delivering affordable fire protection services to meet state legislation.
Going to help families start their own business and continue to train all fire technicians across various levels to meet the FCF Standard. With International awards and local recognition FCF is an Industry Leader, find out more at https://www.firesafetyfranchise.com.au/how-fcf-started.html