Welding Fire Safety: Fire Prevention for Welders
Posted on 5 July 2019
It's easy to be complacent, careless, and be overconfident with things that you work with every day. Losing the once held fear of fire is a cinch when you're an experienced welder, But a minor mistake or inappropriately placed object can send a room up in smoke and start welding fires. As challenging as it might seem, a welder must always do a spot check for combustible objects within the welding environment.
Fire prevention is essential, welding sparks start fire. Before you start any welding project, be aware of potential fire hazards and consider safe practices. Always check your work area, adjacent areas, welding equipment, and materials.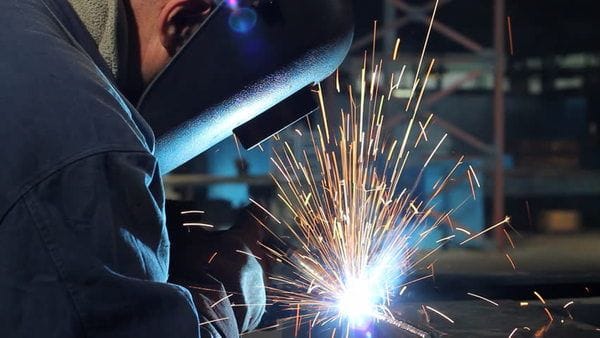 Although it does not need to be, welding may be one of probably the most dangerous industrial professions. With the appropriate knowledge on welding safety work practices, safety equipment, and policies, a welder may be properly protected from personal injury or property damage. It is not often easy, but professional welders and people who weld as a hobby must be acquainted with the risks they are dealing with and must have every possible precaution.
Fire Prevention Guidelines
When items to be welded, cut or perhaps heated shall be relocated to a designated safe place or, if the items to be welded, cut, or perhaps heated can't be conveniently moved, all movable fire hazards in the area shall be taken to a secure place, or otherwise protected.
If the items to be welded, heated, or cut can't be moved and when all the fire hazards can't be eliminated, positive ways shall be taken to constrict the sparks, heat, and slag, and immovable fire hazards must be protected from them.
Welding, cutting, or heating should not be done where there is presence of flammable compounds, application of flammable paints, or heavy dust concentrations as this creates a fire hazard.
Appropriate fire extinguishing equipment must be immediately available in the work area and must be maintained for immediate use.
If fire prevention precautions are not sufficient when welding, cutting, or heating operation, additional personnel must be assigned to secure the area against fire while the actual welding, cutting, or heating operation is being performed, and for an adequate period of time after completion of the work to make certain that no chance of fire exists. Such personnel must be instructed as to the specific anticipated fire hazards and how the firefighting equipment provided will be used.
Since direct penetration of heat transfer or sparks may introduce a fire hazard to an adjacent area when welding, cutting, or heating is performed on floors, walls, and ceilings, the same measures shall be considered on the exact opposite side on which the welding is being done.
For the removal of potential fire in enclosed areas as a result of gas escaping through leaking or improperly closed torch valves, the gas supply to the torch must be favorably shut off at some point outside the enclosed area every time the torch is not in use or whenever the torch is left unattended for a considerable period of time, such as during the lunch period. The torch and hose shall be removed from the confined space for overnight and at the change of shifts. Open end fuel gas and oxygen hoses must be instantly removed from the enclosed area when they are disconnected from the torch or other gas-consuming devices.
Review the safety information that came with your welder and any other equipment you use.
By following these guidelines welders can stay safe. To keep up with the most recent safety practices, outdoor welding safety and stay up-to-date on the latest fire safety regulations visit FCF. The team at FCF helps businesses all over Australia. We are a one-stop shop for all your fire protection services needs. FCF offers a range of fire protection equipment such as commercial fire alarm systems, fire sprinklers, fire detection systems,
fire extinguishers
,
online fire safety training courses
, hydrant testing, rcd testing, electrical works and many more. Visit us today for a free quote.