Fire Suppression Systems
Posted on 30 April 2019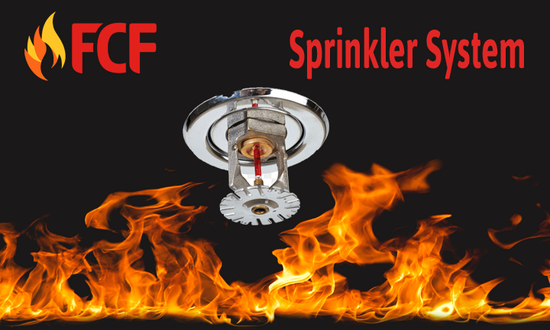 In the event of a blaze, fire suppression systems are used to control or extinguish fires in order to reduce damage to property and the risk of casualties. Basically, a fire suppression system is comprised of a broad range of equipment and products, some of which include sprinkler mechanisms, gas suppression systems and hose reel systems. By pouring an extinguishing agent whenever a certain temperature is exceeded, the devices help mitigate risks for both firefighters and the building's occupants.

Fire Suppression Through Fire Sprinkler Systems

Sprinkler mechanisms can be categorised into 2 main types, namely wet and dry systems. Wet systems use water contained in the piping to combat the fire. These are the most common fire suppression systems and are typically found in retail establishments, office buildings and climate-controlled premises. See our fire spinkler systems page for more information.
Dry systems are designed for use in areas where the ambient temperatures are usually around the sub-zero range. Due to the risk of freezing, the water isn't usually present in the piping until the mechanism is activated. Dry pipe systems are used in unheated areas such as loading docks and unheated buildings.
Other less-common types include deluge and pre-action systems. The former are commonly used where there's high risk of fire spreading rapidly, such as fuel loading areas and outdoor transformers. The system uses open sprinkler heads which allow for quick release of water over the entire area at the same time. Once the detection mechanism is activated, the whole area is flooded with water all at once.
Pre-action systems are usually found in areas where high-value items are located, such as data centers, museums and libraries. The mechanism utilizes a combination of dry, wet and deluge systems. There's a double-interlock system which requires the simultaneous activation of a sprinkler and fire detector in order for water to be released. Otherwise, the piping is filled with air, like is the case with a dry system. You can check this site about fire sprinkler system.
When a fire detector goes off, the pre-action valve is opened to release water into the piping, thus effectively becoming a wet system. This then allows water to be dispersed throughout all sprinklers in the area at the same time. The concurrent activation mechanism is used to prevent accidental triggering of the system.

Gas Suppression Systems

These are commonly used in areas where equipment and materials vulnerable to water damage are located. Here, the non-fire damage caused by water is as risky as the fire itself. The main types of gas suppression systems include:
Clean agent suppression systems: These are engineered to protect assets by combating an inferno without posing risks to the environment and people as well. Besides being safe to breathe when discharged, the agents will extinguish the fire quickly while leaving minimal residue. As such, the building's tenants will only have to put up with a little downtime.
Carbon dioxide systems: These put out fire by eliminating oxygen from the area. In spite of their minimal environmental impact, they're not ideal for areas occupied by people, due to the asphyxiating effect of carbon dioxide. That said, the systems are well-suited for industrial hazards like power generation plants, chemical storage areas and food manufacturing processes.

Vehicle Fire Suppression

In Australia, industry equipment such as mining trucks, excavators, semi trailers, bulldozers, graders etc can have vehicle fire suppression systems built into them. This is for the protection of staff and personal at the work site. It also contains and helps to limit the fire from spreading. See this article for more information on vehicle fire suppression systems.
Choosing The Right Fire Suppression Equipment

For many business owners, the huge risk posed by fire hazards to various elements isn't acceptable at all. While a wide range of fire suppression systems are available in the market, it's still important to choose one that suits the facility's requirements. It would be advisable to seek advice from a specialist to help in choosing the right system and integrating it with other elements of the building's fire safety program. It must also be noted that fire suppression doesn't simply entail having the equipment around. Steps must be taken to comply with safety standards in order to create a risk-free environment within and around the building.