Things to Consider When Drafting Your Fire Escape Plan
Posted by FCF on 23 April 2019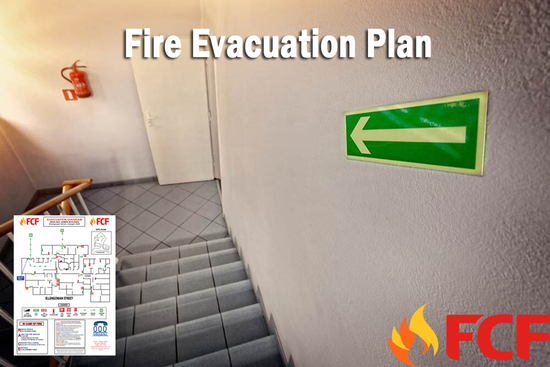 Fire evacuation diagrams are important to have within any building as it provides general guidance where occupants are working or living. Fire evacuation diagrams are specifically designed to help direct occupants in a clear and efficient manner to escape routes during Fire or any emergency while trying to exit the building.
Emergencies happen without warning and the primary means to make it through them is to be prepared, this is the primary reason why it is essential to include things like this in your emergency preparedness plan.
With the new Australian Standard (AS) 3745 "planning for emergencies in facilities" requirements, it is detailed that all evacuation diagrams should have the following to be compliant with current standards.
'You are here' location
Fire stairs
Fire indicator panel
Firefighting equipment locations
Emergency exit points
Assembly points
Legends and more
A fire risk assessment is an important part when drafting a fire escape plan as this is an organised and methodical look at your premises, the activities carried on and the likelihood that a fire could start and cause harm to those in and around the premises.


The goals of the fire risk assessment are:
To identify the location of hazardous items.
To reduce the risk of those hazards causing harm to as low as reasonably practicable.
To decide what physical fire precautions and management arrangements are necessary to ensure the safety of people on your premises if a fire does start.
Good management of fire safety is essential to ensure that fires are unlikely to occur; that if they do occur they are likely to be controlled or contained quickly, effectively and safely; or that, if a fire does occur and grow, everyone in your premises is able to escape to a place of total safety easily and quickly. The risk assessment that you must carry out will help you ensure that your fire safety procedures, fire prevention measures, and fire precautions (plans, systems, and equipment) are all in place and working properly, and the risk assessment should identify any issues that need attention.
For complete peace of mind on fire safety, it is best to hire a professional who is trained and experienced in such competencies. Drafting your fire escape plan and evacuation diagram is a huge responsibility with a lot of liability. If you are not 100% sure of your ability to complete this task yourself, be sure you have acted with due diligence to ensure your fire safety policy is up to a quality standard by contacting FCF.